Discover New Forms of Hyaluronan
Hydrogels
Hydrogels based on hyaluronan derivatives suitable for crosslinking
Nanofibers
Consisting of native hyaluronan and its water soluble or insoluble derivatives
Microfibers
Solubility of hyaluronan microfibers can vary from seconds up to several weeks
Polymeric Micelles
Prepared from hydrophobized (acylated) derivatives of hyaluronan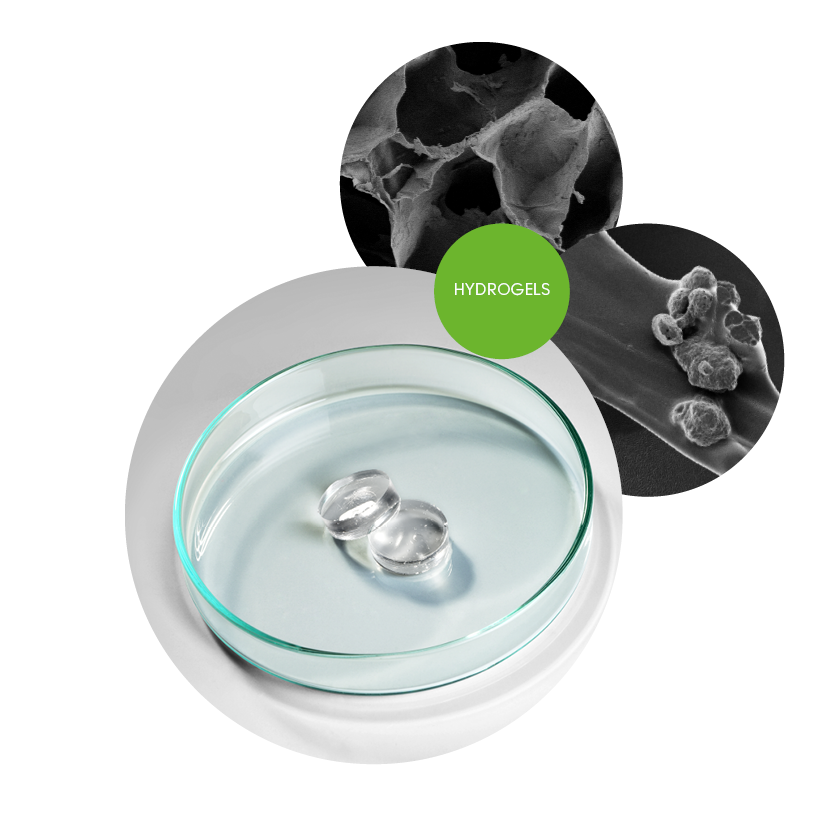 Hydrogels
Our hydrogels are based on hyaluronan derivatives capable of cross-linking made
possible to by non-cytotoxic reaction which enables homogenous incorporation of cells and also in situ gel forming. After the process, material is insoluble in water. Selection of derivatives leads to desired mechanical properties.
Hydrogels can serve as scaffolds, material for augmentation of soft tissue or for viscosupplementation.
It is possible to incorporate cells, fibres, micro or nanoparticles, or active chemical/biological substances
into their structure.
Hyaluronan hydrogels and their degradation products are fully biocompatible and biodegradable.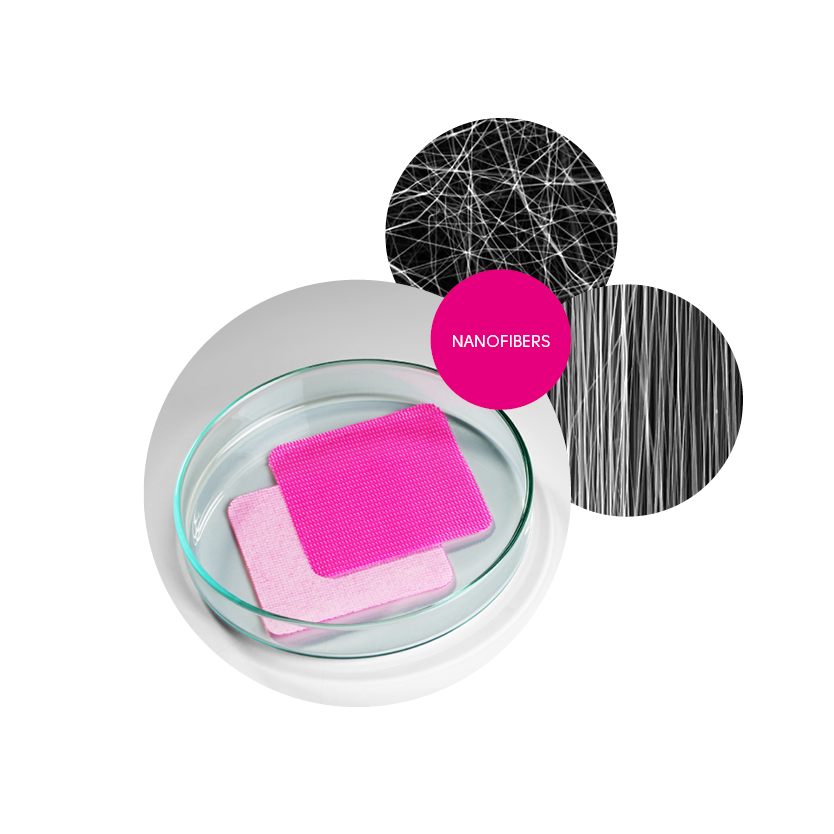 Nanofibers
Nanofibers made of hyaluronan, its derivatives or composite fibers could be produced via electrospinning by our unique 4SPIN® technology.
It allows forming nanofibers of different structures, voluminous and flat layers of different area weights 
or perfectly oriented nanofibers.
Applications of nanofiber materials could be e.g. wounds dressings, drug delivery carriers and scaffolds for tissue engineering.
Furthermore, nanofibers can be combined with other forms of materials like our very own microfibers.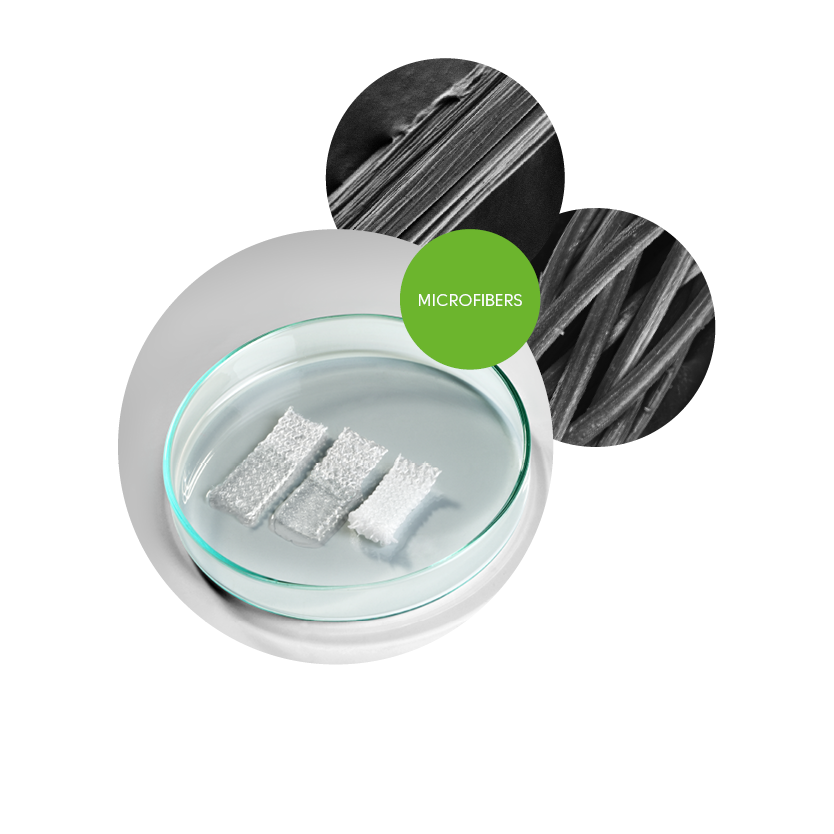 Microfibers
Hyaluronan based fibers have a form of endless continual monofilaments, which can be prepared from various biodegradable derivatives of hyaluronan, differing in the rate of water solubility, resorption time in a body and other biological/physical properties.
Mechanical properties of fibers allow manufacturing by textile technology.
Characteristics of a thread could be altered by combination of differ-material monofilaments.
Knitted fabrics can be produced in various constructions, grammage and size. Braided tubes or threads can be made from different number of monofilaments.
The fibers or textiles can be further modified by active agents.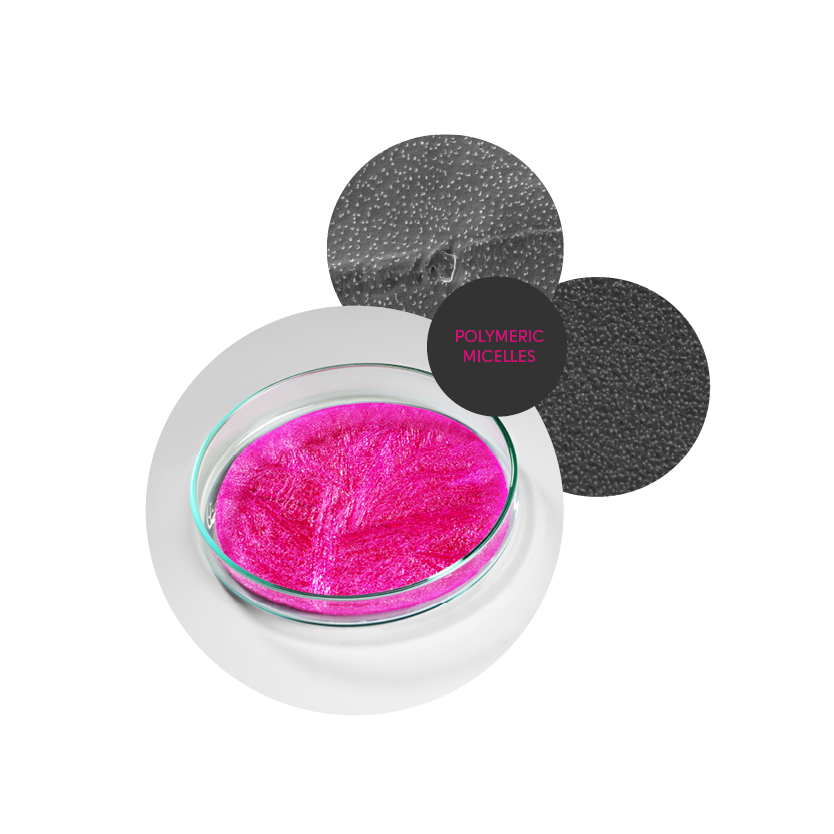 Polymeric Micelles
Self-assembling in aqueous solutions into core-shell structures, which enables non-covalent encapsulation of poorly water soluble drugs.
Mainly because of its biodegradability, biocompatibility and safety, hyaluronan offers a number of advantages over synthetic polymers in both nonparenteral and parenteral administration routes. Furthermore, hyaluronan in the shell of polymeric micelle can be used as targeting molecule to cells or tissues overexpressing hyaluronan-binding receptors, including pathological tissues rich in CD44 receptor.
Polymeric micelles were also found to be very useful in dermatological treatments for their ability to overcome stratum corneum barrier and deliver the hydrophobic drug into deeper skin layers.
Dermatology
Enhancing penetration of encapsulated compounds into skin, hair and nails.
Pharmaceuticals
Hyaluronan shell may serve as targeting molecule for tumor cells with overexpressed CD44 receptor.
Characteristics
In dispersed form
Order Hyaluronan Speciality Chemicals
The most demanded materials
We offer hyaluronan based substances for industrial and R&D purposes, e.g. hyaluronan of different grades and different molecular weights, or hyaluronan oligosaccharides and derivatives.
The materialized demands
Everybody has its own vision which brings specific needs. We are pleased to meet them by manufacturing tailor-made products for your own purposes.